Explanation: Yes, this is called Orange Jelly. But no, it is not orange jelly.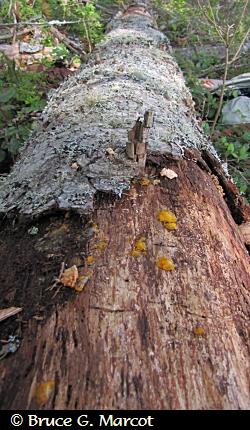 This is a weird and wonderful fungus that is feeding upon the decaying wood of a down Douglas-fir tree, here in the Cascade Mountains of southern Washington state, USA.
Also sometimes misnamed witch's butter (also a great name, but that is actually the name of a different look-alike species), orange jelly also is saprobic, meaning that it derives its nutrients and nourishment from decaying organic material -- in this case, the fallen tree.
Yes, this species is edible -- but I wouldn't suggest trying it without truly expert knowledge.
There are indeed look-alikes, and at least one reference suggests that Orange Jelly should be boiled or steamed and not sauteed as you commonly do with other mushrooms.
Actually, it is safest and best just to leave it alone and let it do its ecological function in the woods of breaking down wood and recycling nutrients.