Back to Poetry Page
Back to The Plexus Home Page
---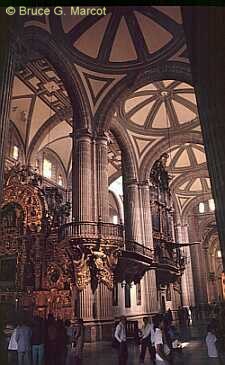 Creed
Strength in numbers.
Grace endowed by rote,
Though meaning slumbers
Amidst excess of quote.

Atoll thy Sin
With verbal emphasis!
Avoid occasion
From exegesis,

For chastity
Of Word removes the stain.
Does history
Not confirm the same?

The Book sustains
Despite demonic thought.
If He disdains,
If logic-snares have caught

Illogical
Belief, be still! Entrust
Liturgical
Strength as iron's rust.

- bruce g marcot
10/83

---




Note: Above photo © Bruce G. Marcot; taken in cathedral on the Zocalo, main square in Mexico City, Mexico.
---