EPOW - Ecology Picture of the Week
Each week a different image of our fascinating environment is featured, along with a brief explanation written by a professional ecologist.
27 February - 4 March 2012
Click on image for larger version
Volcán Puyehue
Andes Mountains, Chile
Credit & Copyright: Dr. Bruce G. Marcot
Explanation: Behold the mighty and massive slopes of Volcán Puyehue ("poo-ZHAY-way" in the local Spanish dialect), of the Andes Mountains of central Chile.
The time is March 2004. Little I know that only 7 years later -- starting 4 June 2011 -- this volcanic complex would awaken for the first time in thousands of years and wreak havoc on the region.
Eruptions of pumice and ash covered the region's livestock grazing pastures, choked rivers and lakes, and blanketed the nearby village of Angustura and other resort towns in Chile and nearby Argentina alike. Air travel was halted and disrupted as the ash cloud punched over 10 km (6 mi) high and reached as far as South Africa, New Zealand, and Australia, at one point stranding over 55,000 southern hemisphere air travelers.
Next week's picture: Asian Elephant Love, Part I
---

< Previous ... | Archive | Index | Location | Search | About EPOW | ... Next >

---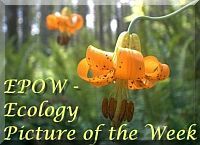 Author & Webmaster: Dr. Bruce G. Marcot
Disclaimers and Legal Statements
Original material on Ecology Picture of the Week © Bruce G. Marcot
Member Theme of The Plexus