Explanation: Some traditions seem to never die. This week we are visiting the Democratic Republic of the Congo in a time machine.
This could very well be the same man in both photos, wielding a trident-like harpoon by which to spear river fish. But these photos span some 56 years.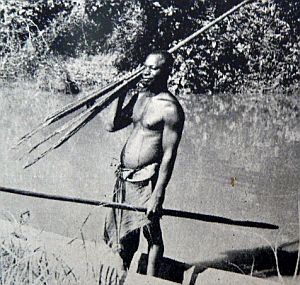 The photo on the left is from a rare book, "Encyclopedie du Congo Belge" (Encyclopedia of the Belgium Congo, the older name for what later was called Zaire and now the Democratic Republic of the Congo). The caption to the photo reads "Fisherman with harpoon, in the river Kasai (Photo M. Huet.)."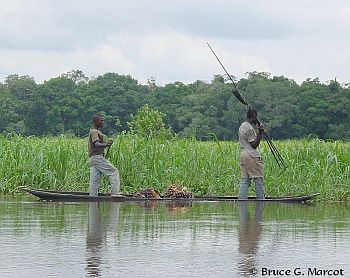 The photo on the right is one I took in the Ubange River in 2006. It is a typical scene of local fishermen wielding very much the same kind of fish harpoon, from the same low-draught dugout pirogue (canoe).
Moreover, according to a recent article in Discover magazine, in the Congo along the Semliki River, some 80,000 years ago itinerant peoples began fishing by using a "composite harpoon tipped with a beautifully manufactured, symmetrical barbed point carves from bone" ... which also describes the structure of harpoons still used there today. The article goes on to state that these harpoons were unlike anything that previous people including Neanderthals and archaic humans had ever produced.
Fish are a vital part of the diet of local people in central Africa, and likely has been for millennia, as a critical source of protein. In fact, during the rainy season in the Congo Basin (which includes the Congo, Ubange, Kasai, Semliki, and many other rivers), much of the jungle floods and people fish within the forests!
Old photo source:
Delevoy, G., and 19 others. ca. 1951. Encyclopedie du Congo Belge. Tome II. [Encyclopedia of Belgium Congo. Volume II.] Editions Bieleveld, Bruxelles [Brussels].
Article cited:
Pringle, H. 2008. Kelp highways. Discover (June):38-43.