Explanation: Just north of Paris, France, exist several community and regional forest parks that date back many centuries. During a lucky spell of mostly wonderful October weather, I visited several of these forest parks with a local friend.
One such community park, shown above, is Le Parc du Château de Méry, located in the small village of Méry-sur-Oise (population 6,000) and along the River Oise. We saw gray heron, moorhen, several duck species, Eurasian coots, Canada goose, and other birds, in the sluggish backwaters and on the adjacent manicured grounds.
We also visited other nearby regional parks, including the larger Forêt de L'Isle-Adam, in which we spent a portion of a drizzly night crashing through the underbrush and calling up five Tawny Owls. These forests of oak, chestnut, ash, linden, and beech hold some very old trees, including a large oak 550 years old and 10 m (33 ft) in circumference. Other wildlife of these forests includes wild boar, fox, badger, ring-neck pheasant, rabbits, and many birds. Gypsum and calcareous stone were mined for some time from within these forests.
Many of these forests were originally private -- kept for hunting -- but later transferred to public ownership and use. The Forêt de L'Isle-Adam has signs of prehistoric occupancy. In 1526, King François 1st transferred the forest to his constable friend Anne de Montmorency, and it later fell into the public domain.
Notable in the parks are the linear, criss-crossing paths that allow ready access. As it turns out, these paths are very old and date back at least to the late 18th century. Old maps from that era clearly show the same pathways we walked.

Map of Forêt de L'Isle-Adam from the Chart of
Cassini, about 1780. The forest is the dark area;
notice the criss-crossing pathways within.
(Click for larger size. Source: Wikipedia)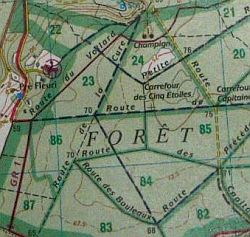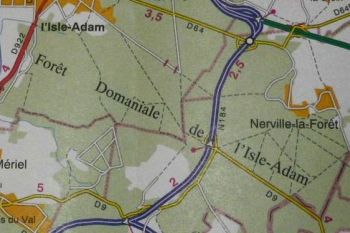 Modern maps of the same forest, today. Notice the same
criss-crossing paths! (Click for larger sizes.)

What is heartening is how long these forest parks have persisted, thanks to individual initiative and preservation regulations, although in 1980 the expressway N184 was built right through the center, dividing the forest in half (as shown in the two modern maps, above). As far as I know, the effects of the expressway on wildlife and ecology of the forest have not been studied.

Acknowledgment:
Many thanks to my French colleague and friend Olivier Pourret for hosting me and guiding me to these forest parks.